PMR ? fever :/
Hai and assalamualaikum . Aku batch 98 . Tahun ni aku PMR . alhamdulilah PMR sudah selesai --" fuhhh ...lega weh ahahahahah . Tapi apa lah nasib malang aku , lepas habis PMR terus demam :/ demam demam demam . haih --' . Nak buat camne kan ... dah Allah turun kan aku sakit mesti lah bersebab kan kan ? hihik . tapi aku diam je tak bagitahu sesiapa . Dua tiga hari lepas PMR , demam pon dah teruk . baru aku bagitahu orang . masa tuh mama nak pergi nilai . ya Allah . menggigil gigil aku doh ..kesejukan . tambah lagi sakit perut . hm . sumpah dengan muka pucat time tuh . ayah pon dah risau . ayah belikan aku minyak bam , mama bagi aku makan panadol . takleh bangun aku time tuh . terus balik . hm :/ sebenarnya saja je nak post . k laa tata~
---
Thanks for reading :)
---
Throwback .
Ohh God .... sumpah serabut kepala hotak aku ni ! Ya Allah . Kenapa lah boleh jadi macam ni ? Aku cuba sedaya upaya untuk kekal kan relay aku dengan dia .. walaupun banyak kali gaduh . Aku sayang sangat dekat dia . Katanya "Saya tak nak buat awak sedih dan menangis lagi , saya lepaskan awak" lebih kurang macam tu lah ayat dia . Aku ada hanta mesej dekat dia supaya Allah kekalkan hubungan aku dengan dia kalau dia jodoh aku , tapi kitorang asyik gaduh . Then , lepas aku hantar macam tu dia fikir aku cuba nak cakap yang kitorang tak de jodoh . Ya Allah bukan itu maksud aku ... maksud aku cakap macamtu supaya nak bagitahu dia yang aku sayang dia sangat2 . Tapi dia boleh je tetiba minta break tanpa fikirkan perasaan aku :') mungkin ini memang takdir aku . Hm , Ya Allah aku tak nak benda ni terjadi . Aku tak kuat . Kenapa dia buat aku macam ni masa nak dekat dengan trial PMR . Then , tetiba dia cakap yang dia susah nak jumpa aku . Ha ha ha :'/ itu rupanya alasan sebenar dia . Tak sangka dia macam ni . Bila dah minta clash then nak minta jadi kawan . Y Allah aku tak kuat . Kalau ikutkan hati ni aku nak seperti dulu . Then sekarang dia ada crush , baru dua hari break dah ada crush . Hm . Nampak tak permainannya . Kalau dah tak sayang cakap . Kalau dah tak suka cakap . Kalau dah suka orang lain cakap . Kalau aku ada salah cakap . Susah sangat ke nak jujur ? Aku percaya kan kau . Kau buat aku macam ni . Camne lah boleh ada crush kalau tak contact kan ? Nampak sangat lah masa couple dengan aku ,. dia mesej orang lain . Ha ha ha . Aku ni bodoh sayangkan dia sampai laki lain aku tak pandang pon . Tapi dia ? Ya Allah . Kenapa berat sangat aku nak terima ??? Aku tak boleh lupakan dia . Every second , minute , hour , day , week
IMISSYOU
. Don't say you love me when you already be my EX .
---
Thanks for reading :)
---
me , izzatie , fea , nissa . we are young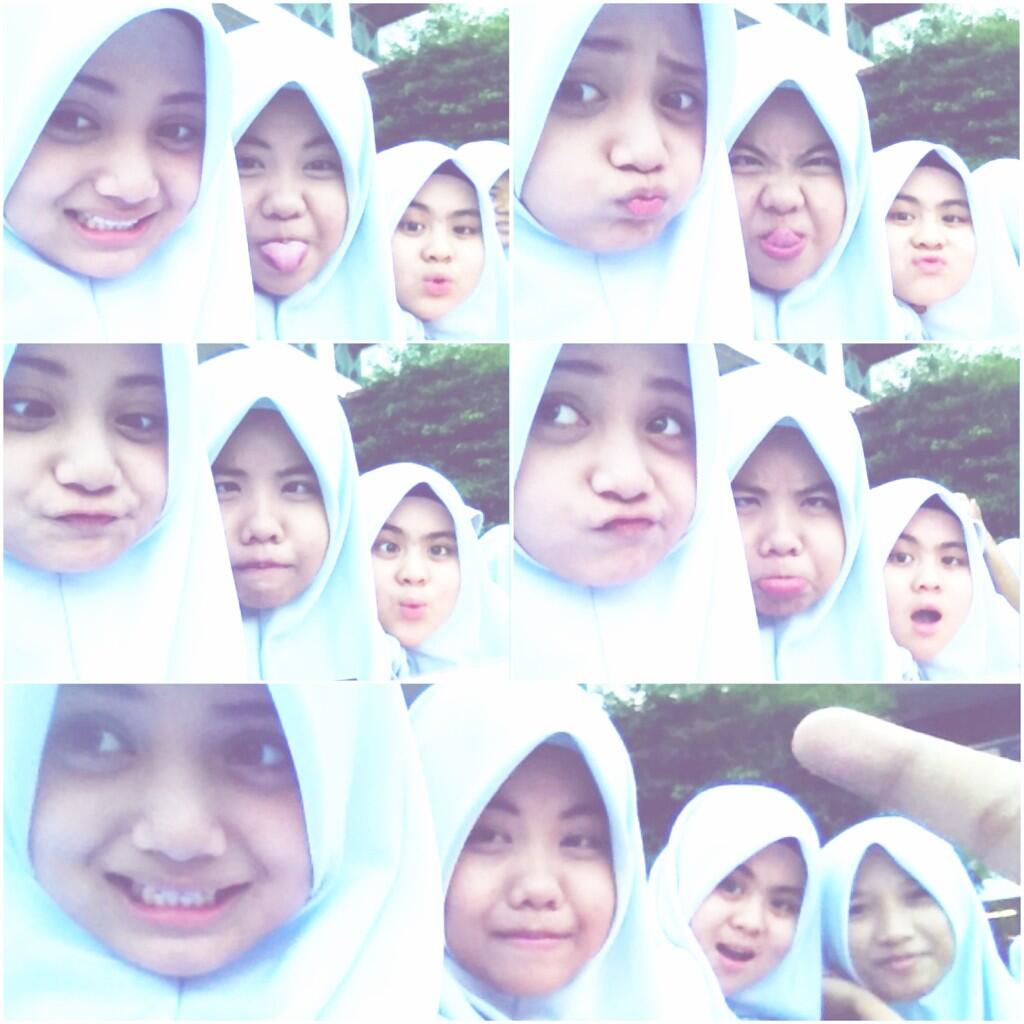 ---
Thanks for reading :)
---
Hari Guru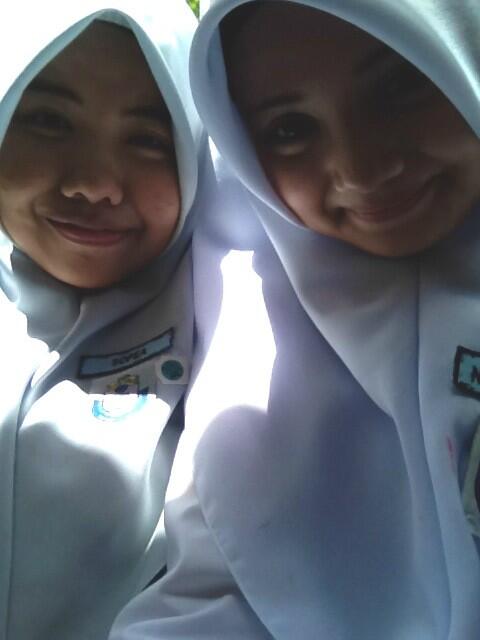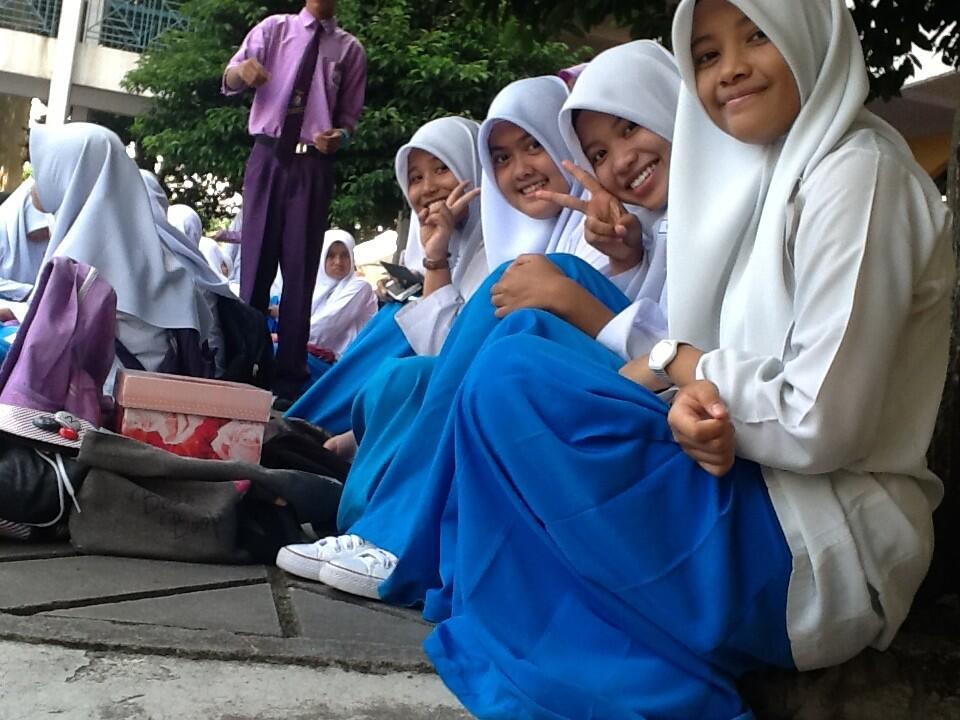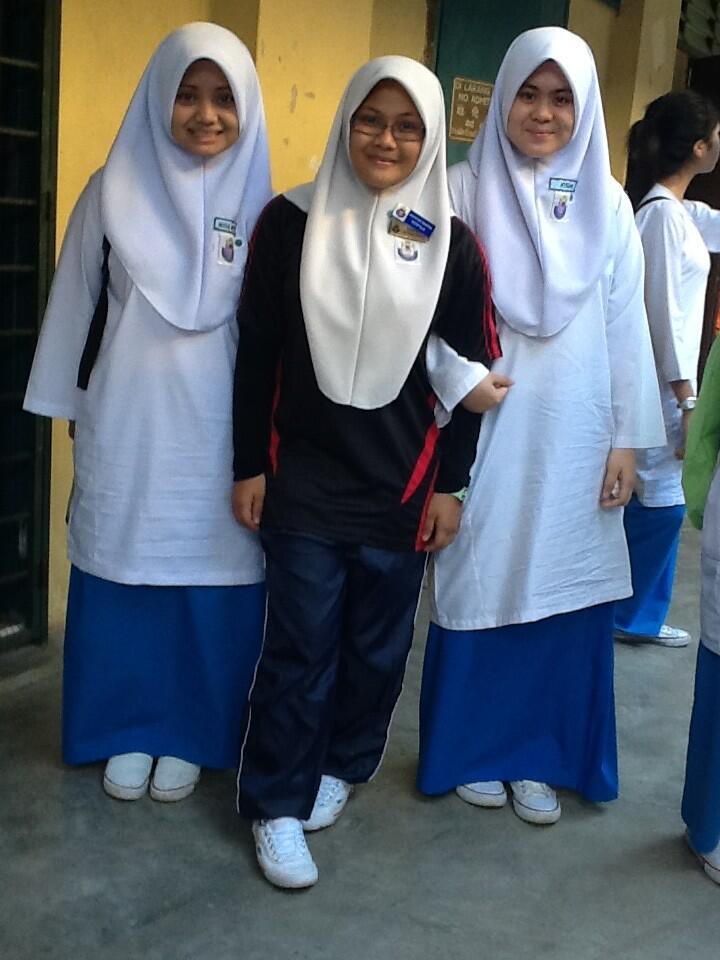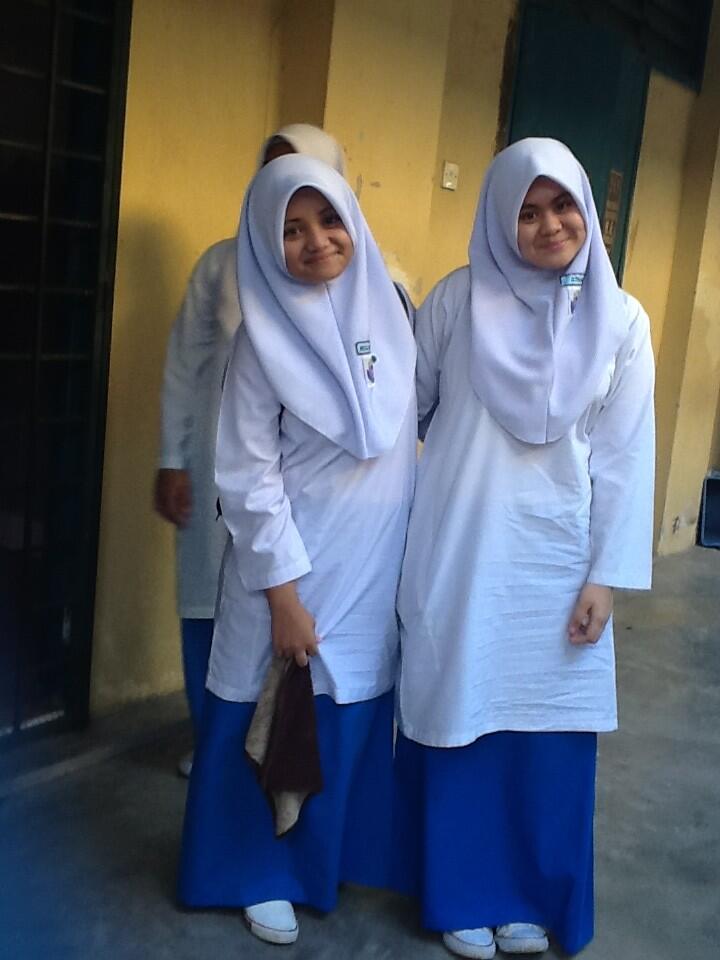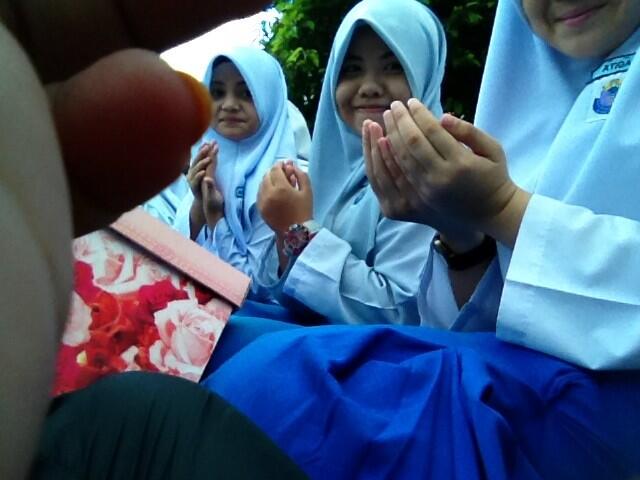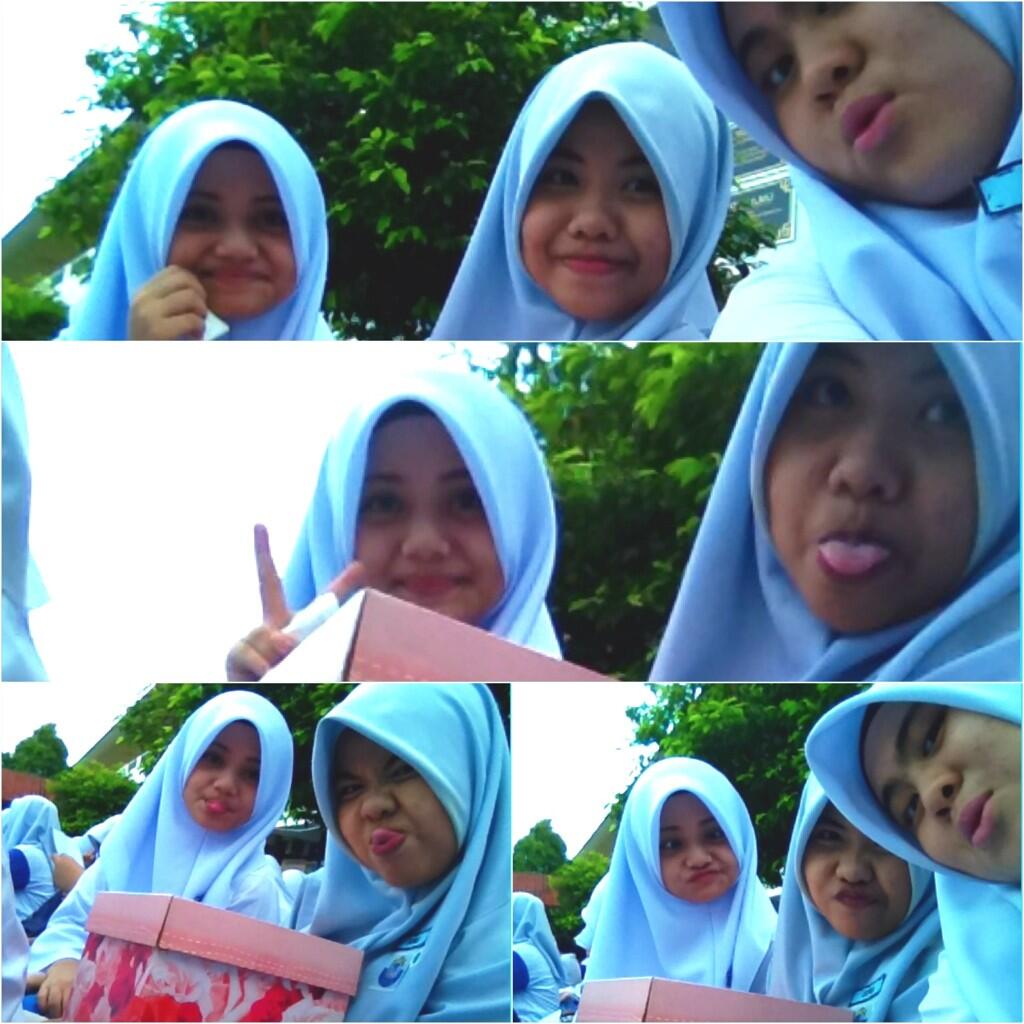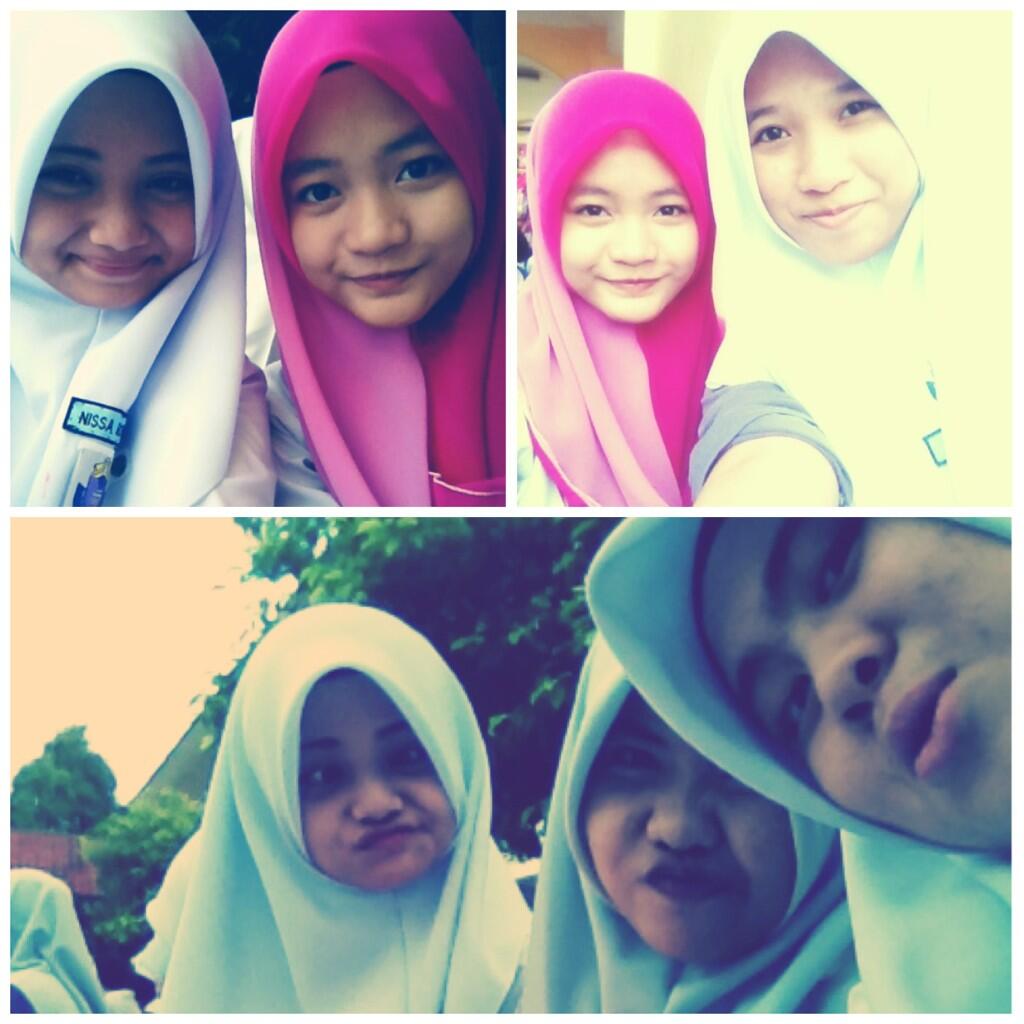 Haha , hari guru tadi ...tired day . orang tengok persembahan tapi kitorang tengok diri sendiri . ngee :8 best day ...lepak-ing with them , nme yang ada dalam gambar gila2 , nissa . izzatie , atiqah , fea , me , azlin
---
Thanks for reading :)
---
back from KFC last day :*
---
Thanks for reading :)
---
Story~~
(SHORT STORY)
Salam and hai . Hari ini aku nak cerita kan cinta yang berlaku dikeliling hidup aku . Ada seorang perempuan yang namanya Alia(bukan nama sebenar) berkenalan dengan Saiful(bukan nama sebenar) . Mereka berkenalan semasa bulan 1 , dengan pertolongan kakak Alia , Saiful pun dapat number Alia . Masa Saiful misscall number Alia pada mulanya tak dilayan . Tapi setelah diberitahu kakak nye Biena(bukan nama sebenar) baru lah Alia berkawan dengan Saiful .
Pada awal mereka mesej , Alia berkata "saya hanya nak berkawan sahaja dan kita tak akan lebih dari kawan. saya taknak hati saya terluka" dan Saiful balas dengan ringkas "okey , saya faham" semasa mereka kenal . Alia tidak sangat layan Saiful , sebab kan tak nak tersangkut dengan kata-kata Saiful
Selepas sebulan mereka kenal , Saiful pun minta couple tapi ditolak dengan Alia kerana Alia belum bersedia untuk terimanya . Saiful mula panggil2 sayang dan membuatkan Alia sayang kan nya . Tapi walau macam mana pon Alia tidak pernah bagitahu sesiapa yang dia sudah mula cinta dan sayang kepada Saiful kecuali kakak nya Biena .
Tiba-tiba , ex Alia kembali menghantui hidup Alia , Saiful dapat tahu dan dia berasa sangat marah dan cemburu walaupun sebenarnya Alia tidak layan langsung ex nya itu . Tetapi seminggu selepas itu Saiful mula melayan seorang perempuan yang bernama Shyuhada atau pun dipendekkan Shyu . Alia sangat cemburu jadi dia pun bagitahu Saiful bahawa dia sangat cemburu tapi malang nya , selepas dia bagitahu Saiful ....mereka tidak contact antara satu sama lain kerana masing-masing keras kepala tidak ingim minta maaf satu sama lain
Selepas dua tiga hari mereka tidak ber-contact , Alia stalk twitter Saiful dan Alia dapat tahu bahawa Saiful sudah pun bercouple dengan Shyu ...Ya Allah , hanya tuhan sahaja tahu apa yang Alia rasa , sedih , marah , cemburu , macam-macam perasaan Alia hadapi ...Alia cuba menjadi kuat sehingga seminggu selepas itu , Alia tweet "Saya rindukan awak" .
Mungkin Saiful perasan dan dia favourite tweet itu , lalu Saiful pon menghantar chat kepada Alia "hai ......."saya rindu awak"..."saya tak bahagia dengan dia"..."saya tak sayang dan cinta Shyu seperti saya cinta dan sayang awak" ....setelah habis chatting mereka , Alia menjatuhkan airmatanya untuk kali kedua disebabkan Saiful . Alia sangat gembira kerana Saiful rindukannya .
Sejak berlakunya chatting itu , mereka mula contact semula ...dan seminggu selepas itu Shyu dan Saiful putus dengan alasan , kononnya Shyu still sayangkan ex dia , akan tetapi Saiful meninggalkan dia kerana Alia . Alia rasa gembira kerana Saiful kembali disisinya walaupun mereka tidak bercouple
Alia kata "Alia nak jadi isteri awak , bukan girlfriend awak" ..Saiful mungkin terharu akan kata-kata Alia walaupun ringkas , jadi mereka pun berkawan seperti biasa . Bila orang mula tanya kepada Alia , dia hanya jawab "eh , tidak ...Alia dan Saiful bukan couple tapi lebih dari kawan" .
Sampai lah kebulan 4 , tetiba dorang jarang contact disebabkan Alia mempunyai penyakit yang teruk *rahsia . Jadi Alia tak larat nak mesej ataupun OTP dengan Saiful ...seminggu lepas tu , kesihatan Alia semakin baik , tetapi Saiful pulak demam da tak dapat mesej lagi .
Semasa Saiful demam , Alia tweet dengan seorang lelaki ini yang merupakan bekas crush Alia masa tahun lepas di sekolah . Tapi , itu hanya dulu ...Selepas mereka tweet dan tweet , bekas crush Alia itu mengaku kepada Alia yang dia suka kan Alia . Pada mulanya Alia melting dan suka , tetapi ALia hanya fikirkan Saiful .
Dalam diam-diam , Saiful baca tweet mereka dan Saiful pun berkata "patut lah dia tak kisah aku mesej dia ke tidak" selepas Saiful dan Alia gaduh disebabkan tweet itu ...mereka pon mula lost contact . Tetapi , mereka stalk twitter antara satu sama lain .
Muncul la orang baru yang bernama Miela(bukan nama sebenar) . Pertemuan Saiful dan Miela berlaku di Pasar Tani . Sejak pertemuan mereka , mereka mula menjadi rapat dan Alia diketepikan . Semasa Miela dan Saiful mesej2 or tweet2 , mesej Alia tidak dibalas :') . Hanya Allah s.w.t je tahu ape yang Alia rasakan semasa itu .
Air mata Alia mengalir setiap kali Alia nampak tweet Saiful atau pun Miela saling sweet antara satu sama lain ...dan dalam masa yang sama , apa yang Alia rasa sama seperti Hafiq ..sejak itu Alia selalu menceritakan perasaan cemburu atau sedih kepada Hafiq .
Nasib baik Hafiq memahami , dia paham perasaan Alia kerana dia pon pernah rasa seperti itu . Hafiq dan Alia saling menasihati antara satu sama lain . Sehingga satu masa , Hafiq OTP ngan Alia , tapi dalam masa yang sama Hafiq tengah lepak dengan Saiful .
Isi perbualan mereka penuh dengan Saiful dan perempuan yang Hafiq suka . Perkataan yang Hafiq selalu sebut semasa Alia OTP dengan dia adalah "kau okey tak".."jangan buat kerja gila" ... Risau nya Hafiq terhadap Alia .
Dan , semasa OTP , Hafiq cakap "dorang dah couple rasanya , tak pasti aku" , semasa Hafiq berkata seperti itu , air mata Alia yang sangat berharga jatuh secara tiba-tiba dan jantung Alia berdegup dengan laju . Semasa Hafiq cakap seperti itu , Alia rasakan bagai nak tercabut nyawanya .
Alia terdiam dan air mata nya masih lagi mengalir sedang kan Hafiq pula tanya berulang-ulang "kau okey tak ni ? jangan nangis" tetapi masa itu , Alia hanya cakap "aku ok lah" . Itu lah ayat fake yang selalu dikeluarkan oleh Alia . Hafiq pun lalu berkata "aku ada tanya Saiful pasal kau pastu Saiful cakap lah "kau tak baca tweet dia dengan laki tu""
Semasa tu , barulah Alia tahu yang Saiful masih lagi marah kan Alia pasal tweetnya dengan lelaki itu . Tapi benda dah jadi , Alia tak kuat untuk kata apa-apa jadi Alia pon hentikan perbualan dia bersama Hafiq . Thanks Hafiq sebab ada masa Alia nak ceritakan story .
Pada 7 May , Saiful ada hantar 1 mesej kat whatsapp . Isinya ialah "maaf kan saya :'( set time saya nk sgt jumpa awak ...saya dah baca blog awk ...hmm saya salah :'( please selagi saya x jumpa awak saya xkan tenang ...pleasee awak tunaikan permintaan saya niee" dan Alia pon reply "jangan baca blog saya lagi lepas nie . saya taknak awk baca" dan reply reply reply ... Alia rasa happy sangat :')
Tapi pada keesokannya , Alia stalk twitter Saiful dan bio Saiful ada nama Miela , dan dekat bio Miela ada nama Saiful . Menitis lagi sekali air mata Alia yang kini sangat murah . Terlalu murah untuk menjatuhkan air mata pada seorang lelaki yang tak memahami diri sendiri . Pada masa itu Alia pon hantar 1 mesej di whatsapp Saiful "sakit wak . sakit sangat . saya harap awk rasa mcm mne saya rasa . thanks thanks . buat saya jatuh . thanks" setelah hantar seperti itu Alia pun berharap supaya Saiful membalas tetapi sampai ke hari ini tiada langsung respon dari nya .
Alia rasa sangat kecewa dan hidup nya tak seperti dulu lagi , berubah seperti 180 darjaa .. Alia sangat sangat dan sangat kecewa . Alia mula rasa yang dia tidak lagi penting dalam hidup Saiful .. Alia dapat rasakan cinta dan sayang Saiful terhadapnya sudah diganti oleh Miela .
Bagi Alia , Miela seorang yang ayu , cantik , baik , comel ...walaupun Miela bersama dengan Saiful tapi Alia tidak pernah salahkan sesiapa dan Alia rasa ini semua punca dari Alia sendiri . Bukan salah sesiapa . Sebab kalau bukan Alia tak hargai Saiful seperti yang dikatakan Saiful mungkin benda ini takkan terjadi .
Pertemuan Miela dan Saiful pada 1.5.2013 tapi walaupun baru 12 hari mereka kenal tapi Miela sudah sayang kepada Saiful yang teramat . Tapi , Alia dan Saiful ? 27.1.2013 ? lebih lama , dan tahu-tahu sendiri lah macam mana rasa sayangnya Alia dekat Saiful . Ia terlalu dalam , dalam sangat , tak terkata .
Makin lama hati Alia makin kering dengan kata-kata cinta daripada lelaki tapi mengapa Alia tetap sayang dan cinta Saiful ? Mengapa Alia masih lagi tunggu Saiful ? Mengapa terlalu kuat sayang dan cinta ini ? Mengapa Saiful tidak pernah perasan ? Mengapa ? Mengapa ?
Hari-hari Alia tidak jemu untuk mesej kepada Saiful walaupun tak pernah dibalas . Kadang-kadang , Alia terasa bahawa dia sangat lah bodoh kerana bertepuk sebelah tangan selama ini . Mengapa Alia berkata sebegitu ? Kerana Alia ternampak satu post yang ditulis oleh Miela "baru aku tahu selama ni aku crush dia" .
Adakah perkataan "dia" itu adalah Saiful ? Kalau sebegitu ? Siapakah Alia didalam hati Saiful selama ini ? Adakah seorang perempuan yang hanya menemani Saiful semasa waktu bosannya ? Apa semua ni ? Apa !
Sampai ke hari ini , Miela dan Saiful menjadi seperti renggang . Adakah kerana Alia ? Miela ingin mengundurkan diri , dia ingin move on , dia tak nak disebabkan dia Alia dan Saiful bermasam muka . Tapi adakah ini hanya kata-kata sahaja ? Miela ingin lupakan Saiful tapi boleh ke ? Adakah masa membenarkannya ?
Mungkin susah untuk Miela melupakan Saiful kerana mereka satu sekolah . Tapi Alia disebaliknya . Alia yang tidak berjumpa dengan Saiful hari-hari disekolahnya pun susah untuk melupakan Saiful , apatah lagi Miela .
Saiful berkata "pilih sini , sana sakit hati , pilih sana , sini terasa . Baik cari yg lain" . Apakah ini Saiful ? Adakah anda sedang bermain dengan kata-kata manis mu untuk perempuan ? Cukup lah kamu menyakiti hati Alia ataupun Miela tapi jangan lah berbuat kepada orang lain
"Wahai Saiful bin Safee , anda telah pun membuat hati Alia teluka , terguris , dan sudah membuat kesan parut di hati Alia . Parut yang tidak boleh hilang "
To be continued... .
---
Thanks for reading :)
---
Move On
Sayang ? huh . OK . huh . eermm, memang lah aku still sayang kan dia , everyday i sent a message "Saya Sayang Awak" but , no respon ...you know why ? becouse dia da ada yang lain , walaupun dorang tak couple tapi aku tahu masing2 ada hati antara satu sama lain ...masa mula dorang kenal , aku da mula takut ....sebab takut dia akan couple dengan perempuan tu . huh . nak buat macam mana kan , bukan jodoh ...tapi aku selalu ingat ayat dia , "kalau ada jodoh tak kemana" . erm come on lah , kenapa aku susah nak move on ni ? kenapa aku susah nak lupakan dia ? kenapa kenapa ? kakak aku and kawan dia cakap "aku rasa antara banyak2 lelaki , Syam tu kau paling betul2 sayang , tak ada main2" aku pun hanya gelak dan tunjuk fake smile ...lalala ...susah kita nak senyum bila hati tengah luka ...susah sangat ....lagi2 aku jenis tak suka bercerita pasal hati aku kat orang lain ...so , memang sakit gila lah kalau pendam sorang2 ...susah nak percaya kan orang ...dulu aku asyik suruh orang move on bila patah hati but , now ? aku tak bagitahu pun member aku , aku bagitahu sorang pon , dia tak paham sangat , yang kawan aku tahu "kau cakap lagi , aku buat perangai" ..hm , so memang tak ada sesiapa lah aku nak cerita . hanya ada blog ni je laa ..hm , ya Allah tolong kuatkan semangat aku , beri kan aku petunjuk ....aku kena move on jugak , sebab perempuan tu dah mengaku suka kat dia ...so aku tak boleh hancurkan dorang , aku taknak tengok dia sedih sebab kan aku ..aku benci diri aku sendiri . benci sangat
---
Thanks for reading :)
---
Older Post